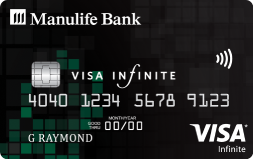 ManulifeMONEY+ Visa Infinite* Card
Travel benefits, exclusive perks, and accelerated cash back rewards.
$139 annual fee waived
in 1st year‡

1.99%
rate on balance transfers for 6 months‡
3%
cash back at grocery stores‡
2%
cash back on airlines, hotels and cruises‡
1% unlimited
cash back on everything else‡
20.99%
purchase rate

22.99%
on cash advances 

*Trademark of Visa Int., used under license.
‡ManulifeMONEY+ Visa Infinite Card – Terms & Conditions 

Visa Infinite – General Terms & Conditions: you must be an eligible Visa Infinite cardholder with a valid Visa Infinite Card to take advantage of the Visa Infinite benefits and services. Discounts and benefits are non-transferable and discounts cannot be combined with any other offer or discount. Visa reserves the right to modify or cancel offers at any time and without notice. Neither Visa nor the Issuer is responsible for any claims or damages arising from use of any benefits or services provided by a third party. All offers, benefits and services are subject to complete terms and conditions, including third-party suppliers' terms and conditions. The Visa Infinite privacy policy applies to all benefits and services that require enrolment through, or are otherwise provided by, the Visa Infinite Concierge or the Visa Infinite website. The collection, use and disclosure of cardholders' personal information by third-party suppliers of services and benefits to Visa Infinite Cardholders are subject to such third parties' own privacy policies. The collection, use and disclosure of cardholders' personal information by third-party suppliers of services and benefits to Visa Infinite Cardholders are subject to such third parties' own privacy policies.
Cash back: You will earn 3% cash back on the first $25,000 you spend annually at merchants classified in the Visa network as Grocery Stores & Supermarkets (Merchant Code: 5411). You will earn 2% cash back on the first $25,000 you spend annually at merchants classified in the Visa network as Hotels, Airlines, or Cruise Lines  (Merchant Code: 3000-3003-3008-3501-3838, 4411, 4511, 4722, 5962, 7011, 7012). All other purchases earn 1% cash back. The $25,000 annual spending limits will reset to zero on each anniversary of the date you opened your credit card account. Terms, conditions and eligible merchants/merchant categories may change without notice. Cash back is earned on card purchases less returns and not on cash advances, interest, fees, service/transaction charges, balance transfers and payments.
Annual fees and interest charges: Annual card fee of $139 will be waived in the first year only based on your account opening date. The $50 annual card fee for each additional cardholder is not waived and will continue to be charged if applicable. 20.99% Purchase Rate; 2299% Balance Transfer and Cash Advance Rate.
Balance transfer offer: Only the Primary Cardholder may request a balance transfer. The promotional 1.99% annual interest rate (AIR) applies to any credit card balance transfer the client makes within 90 days of their account opening date and will remain in effect for 180 days (6 months) from the transfer date. After the promotional period, the 1.99% rate on any promotional balances (including balances that remain unpaid after the offer ends) will increase to the regular interest rate for balance transfers. Interest applies from the date a transfer(s) is posted to the new Manulife Bank Credit Card Account. Balance transfers are subject to credit availability, must be repaid, and are administered according to the terms of the Cardholder Agreement. Balances transferred may only be used to pay a balance on a Canadian financial institution issued consumer credit card account that Manulife Bank approves. Balance transfers will be fulfilled in the order (the client/you) requested them and in accordance with the Cardholder Agreement. The total value of balance transfers cannot exceed the authorized credit limit on the credit card account. If the total value is greater, Manulife Bank may have to send only a partial payment to the last designated account / named creditor. A transaction fee equal to 1% of the dollar amount of each balance transfer the client requests will be applied. This offer cannot be used to transfer a balance from another Manulife account, or to make a payment or deposit to another Manulife account. No cash back rewards will be earned on the balance transfer. Offer may be changed or extended at any time. 
☐Insurance: Insurance is underwritten by The Manufacturers Life Insurance Company and First North American Insurance Company, a wholly owned subsidiary of Manulife. Manulife, PO Box 670, Stn Waterloo, Waterloo, ON N2J 4B8. Insurance is subject to exclusions, limitations, and conditions. Clients should refer to the Certificates of Insurance included with their Cardholder Agreement for complete details on each benefit. Clients should read the Certificates of Insurance then keep the Cardholder Agreement in a safe place with other valuable documents,  and take it with them when they travel.
Manulife, Manulife Bank & Stylized M Design, and ManulifeMONEY+ are trademarks of The Manufacturers Life Insurance Company and are used by it, and by its affiliates under license.
*Trademark of Visa Int., used under license.